I have RP and can totally relate to this!

Watch out for wild chairs on the road! You just never know when they will be laying in wait for you on the other side of a hill... my youngest found one today... smashed the poor thing to bits! scuffed the car a little... not that you could tell... lol
I know I said that I was going to work through my issues with Miles, but the young lady that rides with my youngest has decided that she'd like to buy him. Since he hasn't played "let's see how fast I can ditch my rider" with her, we think it's a good match (and are all totally jealous!

)
She's agreed to keep Miles with Chrissy until we can find a replacement so that she's not left alone.

So, the hunt to find a horse is back on...
I thought I find a great one last week... perfectly calm and had been used in a therapeutic riding program for handicapped kids... they just had to scale back and she was a bit tall for the kids... Sounds great, right?
She was a bit agitated when we separated her from her pasture pals, but was happy to focus on the grass at her feet while being saddled. But, when she couldn't eat anymore, she started showing a bit of resistance. By the time Bob got on her back, she was ready for war - throwing her head, trying to bolt, refusing to move away from another group of horses... She behaved a little better for my youngest, but not well enough for me to feel safe riding her.... and certainly not well enough for me to think she was in any way suitable for a therapeutic riding center of any kind! It was soooo disappointing!

I'm buying a horse tomorrow! I'm so very excited!

He's a dun tobiano paint horse. Not the gaited horse I was looking for, but we all have our faults

I'll take pics and post them asap.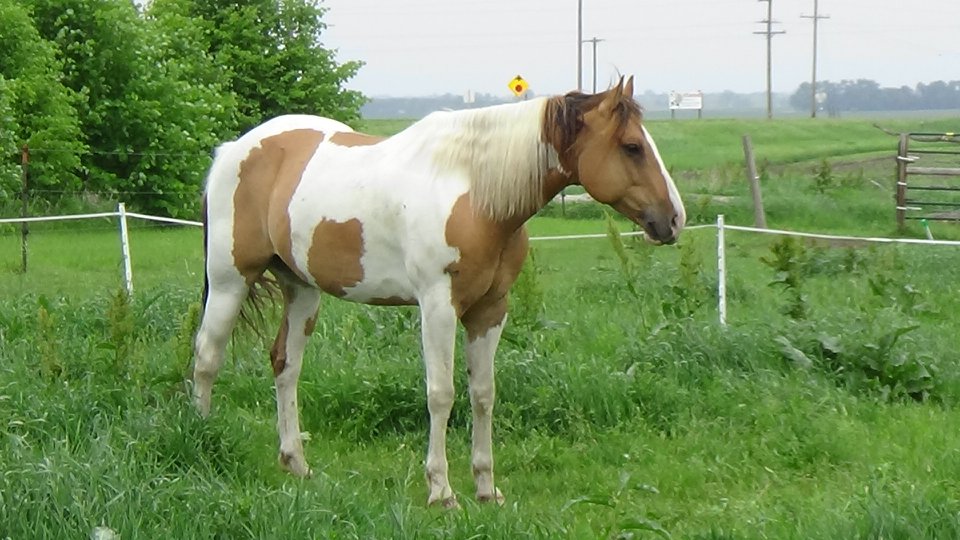 Welcome to the family, Destiny!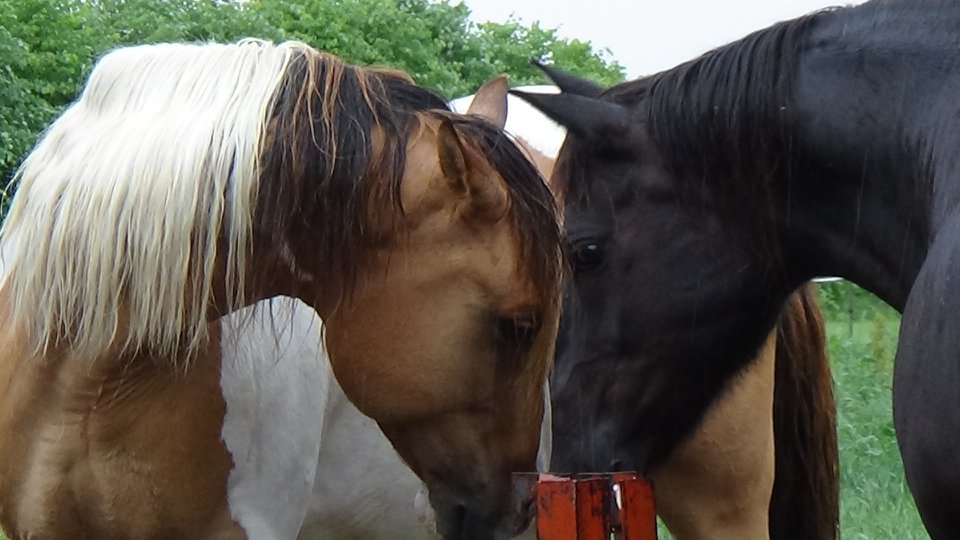 Destiny and Miles - Miles is herd boss, for sure, but no surprise there! :) Miles says: There are some rules we need to go over...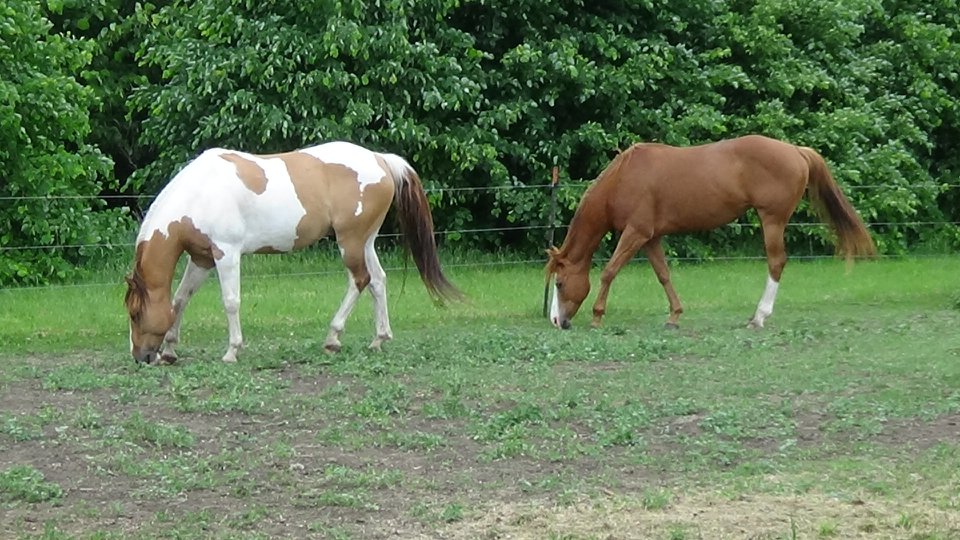 Destiny and Chrissy - Intros went smoothly, no kicking, biting, or chasing :)
I wish I had had my camera last night! my youngest and some friends went for a ride. Chrissy LOVES my youngest and my youngest rode her first, but then switched to Destiny. Chrissy lunged at Destiny, teeth bared! Totally jealous! lol We've never seen Chrissy act like that when my youngest rides other horses. my youngest is going to have to give Chrissy extra attention

Last night, I walked 1/2 mile on my Gazelle (exercise machine)... a few hours later, I suddenly realized that I wasn't in pain. I've had this machine for six months and have faithfully used it at least twice a week (I also shovel horse manure for exercise

). I typically need to stop around the 1/4 mile mark when my shoulder starts screaming. Pain is not my thing and this pain will often last a couple of days after it starts. Although 1/2 mile doesn't sound like much (even to me!

) , being able to do it without pain is a big milestone for me

Bob and I were watching Big Bang Theory last night and he made a comment about them slaughtering a song during their Karaoke. I said, isn't that what Karaoke is all about? This morning, a jingle came to mind to the tune of Hokey Pokey:
You put the whiney voices in
and listen to the deep ones croak...
You put them all together
and watch them shake about...
That's what it's all about!

just love tunes that play in your head for days before you figure out what the song was...
Today is Bob's 1 year work anniversary with Vast Broadband. He says it's the best job he's ever had (financially) and hopes to stay with them for a very long time.

My youngest and Bob are under attack of an invisible-to-the-naked-eye foe. They are being extremely inhospitable to the hundreds (maybe even thousands) of unwelcome invaders, but the invaders are persistent about home steading. I am feeling unusually unsympathetic with the plight of these invaders (they are just searching for a place to eat well, raise their tiny offspring, and live in peace after all) and am arming myself for the upcoming battle with bottles of cough syrup and other cold/flu medicines. Thankfully, the weekend is coming up and Bob can get some extra sleep as physical resources are already being drained and the battle has just begun. However, he is on call this weekend, so the extra sleep may prove to be wishful thinking. my youngest does have today and tomorrow off and we are optimistic that she'll be winning her battle by Sunday (unlikely as that may be

).
Had a beautiful dream of playing with horses - now I can't sleep

My oldest has had a rough pregnancy with 24/7 morning sickness throughout (I guess there is a technical term for that, but I don't know what it is

) and has been bordering on needing to be put on bed rest for months. Thankfully, it hasn't come to that. But, I've been serving as a distraction for her, being on the phone off and on throughout the day with an average of 3+ hrs a day. I'm not complaining - I'm very thankful to be able to be here for her!

A few days ago, with just 5 weeks left before her due date, the doctor gave her a stronger anti-nausea medication that makes her sleepy (which helps her stay off her feet too!

), so I've had extra time on my hands... for months, I've been trying to figure out how to work in some uninterrupted time to focus on my website... Now, I have that time... and, as I stare blankly at the screen, trying to figure out exactly what I should do, I am reminded of The Big Bang Theory episode where the scientists have been looking forward to their girlfriends having a night out so that they can work on a project only to go off on tangents and end up watching a movie! Knowing that fictional scientists sometimes get brain freeze somehow makes me feel better!

I'm rearranging the livingroom...
Me: I just need to vacuum this one spot...
My youngest: One spot? Yeah, right! (rest of the house gets vacuumed

)