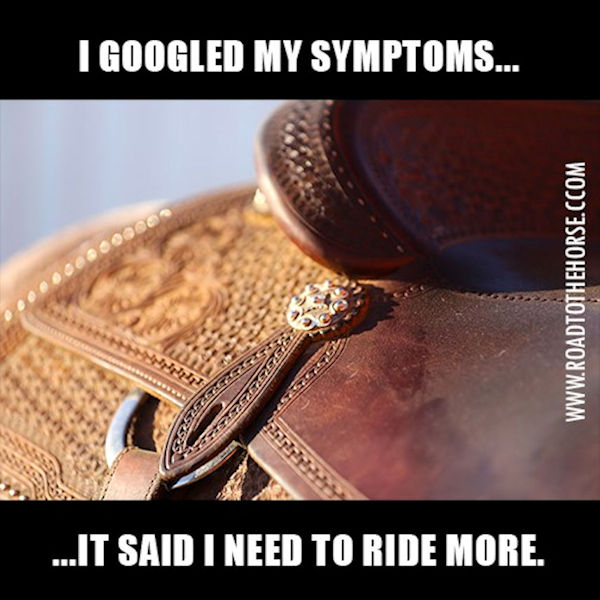 Today is my birthday and Bob has given me an absolutely wonderful birthday present!

Actually, it was an early present... two days ago, we went out to check on the horses... all was well and we started headed back to the truck to leave when Bob asked me if I planned on riding my horse sometime... my horse that I've had for over a year and haven't ridden yet

... I told him that it had been on my mind quite a bit lately but I just hadn't followed through on it...
So, he says: How about now? Now? Really?! YES!
Bob helped me saddle Destiny and he rode one of the other horses bareback. It was only 15 minutes or so - most of which was just standing still while I tried to regain control of my nerves… I was done when my saddle slipped a little...
I have been teased quite a bit before about short rides…
"what kind of horse girl are you?"
"you spend more time saddling than you do riding!"
"such a waste of time"
"what's the point in owning a horse?"

But not Bob! He was perfectly content with doing whatever I felt comfortable with and happy to encourage me.

Yesterday found me saddling up again… on my own this time!

Doing so reminded me of a marketing challenge question that I had been contemplating over the previous few days: what is your limiting story?
I suddenly realized what mine is…
I have this mindset that if I can't be present every day and focus on my goals, then what is the point of doing the work?
It's a perfectionistic thing, I know, but this mindset limits me in soooo many areas of my life – including time with my horse (because just working with him once a week allows him time to forget the previous lesson, so what's the point?)!

I shared this limiting mindset with Bob, along with my desire to do more with my horse, and his response was: we need to make your horse time a priority!

I still have a lot of doubts and negative self-talk to work through, but I am super grateful for the encouragement that Bob has given and his willingness to help me move past my limiting mindset!